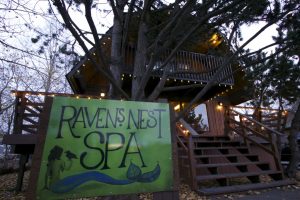 Jewel Lake B&B's building started it's life as a model home for a cedar home builder. Right next door is her sister house. Today that sister house is home to one of Anchorage's premier day spas, Raven's Nest Spa.
Sheila has been the owner & operator of the Ravens Nest Spa since 2006.  She has been practicing as a Massage Therapist and Esthetician for over 12 years.  They offer Massage Therapy, Skincare, Body Waxing and Body Treatments in a cozy and intimate setting right next door!  Enjoy their Medical grade infrared sauna before or after your treatment.  Or relax in a Massage Chair while you unwind and de-stress.
Their professional and licensed massage and skincare therapists will tailor each appointment to your individual needs.   Spa parties at the Ravens Nest Spa are popular also for birthdays, special occasions or just because. They are a perfect treat while on vacation and couldn't be more convenient for those staying at Jewel Lake B&B.